Hotel & Restaurant
Mar Marine Yacht Club hosts a comfortable hotel available to ours visitors. All accommodations include access to our lounge area, TV room and chillouts.
Rooms
Single or double rooms with air conditioner and private bathrooms next to the river shore.
Apartments
Fully equipped apartments atop our main building with a breath taking view of the natural river landscape.
Jade Sports Bar
Enjoy your favorite games at the Jade Sports Bar, have a drink while watching our plasma TVs casting the best of all popular sports.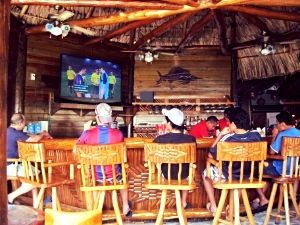 Restaurant
Our restaurant will delight you with great recipes of both local sea food and international cuisine. Don't forget to try our "Mojarras al Ajillo", freshwater perch marinated with Garlic and butter.